By Kat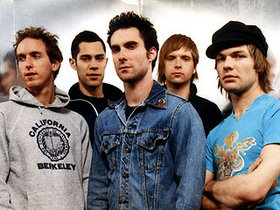 They've reemerged onto the mainstream music scene with Moves like Jagger, and now Maroon 5 is bringing the moves on the road. The band announced today the dates of their 2013 North American arena tour, which begins February 13th in Columbus, Ohio. It's expected that Maroon 5 will feature their latest album Overexposed that was released this past June, which contained mega-hit singles "Moves Like Jagger",
"Payphone" and "One More Night". Canadian dates on the tour include Toronto, Montreal, Calgary and Vancouver – tickets to Maroon 5's Overexposed tour go on sale Saturday, October 27th.
Accompanying Maroon 5 on tour will be Owl City and Neon Trees.
Maroon 5's music has come a long way since it originally emerged onto the music scene back in 2002 with Songs About Jane and "She Will Be Loved". For better or worse, their music has taken a turn towards more of pop sound with Overexposed. What do you think of their latest music?
Announced tour dates (via Pollstar):
Continue reading →